-
Labest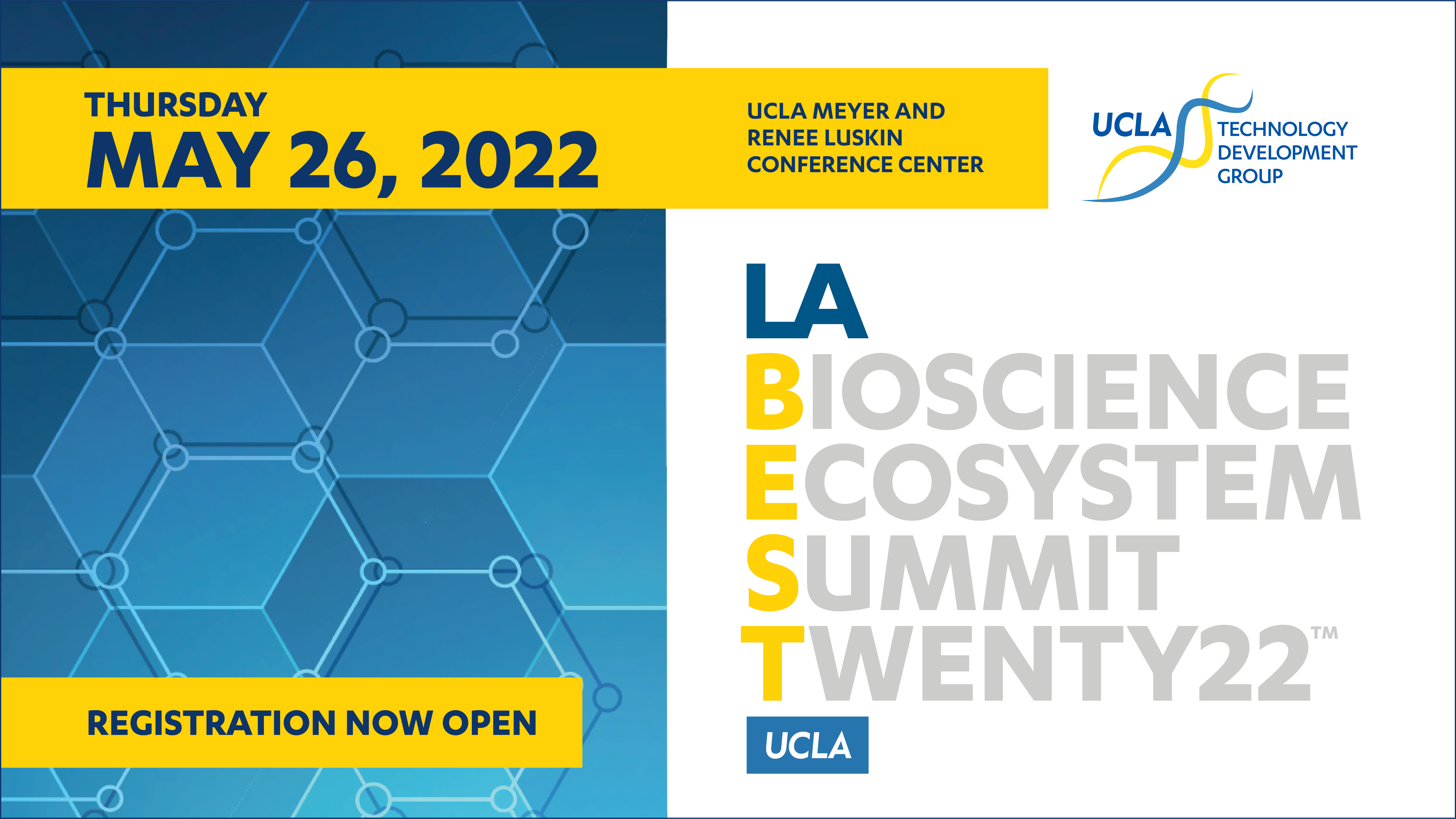 Thank you to all the LABEST 2022 Attendees, Sponsor and Speakers for making this SOLD OUT event a smashing success! You can still view and download the Full Online Program that includes Speaker Bios and other detials. We will be sending a quick 4 question survey by the end of the week and would appreciate your feedback.
LATEST UPDATE: LABEST 2022 is SOLD OUT !!!  A Very LImited Number of Walk Up Registrations may be available starting Thur 5/26 at 8AM but it's not guaranteed                            
What: LABEST - Los Angeles Bioscience Ecosystem Summit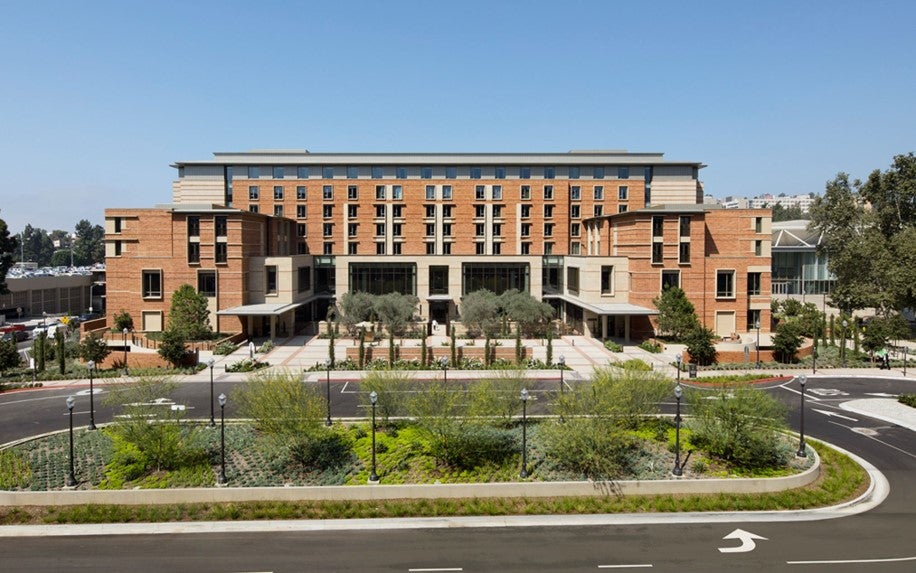 Where: UCLA Luskin Conference Center (see photo)
Date: Thursday, May 26, 2022
Pacific Time: 8am - 5pm Networking, Programs, Breakfast and Lunch &     5pm - 7pm Reception for key attendees
PAID PARKING INSTRUCTIONS     LABEST VENUE MAP     
LABEST 2022 FULL ONLINE SUSTAINABLE PROGRAM
UCLA is strives to be a sustainable university. The LABEST 2022 Full Online Program is Available Now. Please view by clicking the button below. IF you download the program, you can search the PDF by using the "Magnifying Glass" icon on the left hand side.
ABOUT THE EVENT:
LABEST - Los Angeles Bioscience Ecosystem Summit 2022 is the premier showcase for bioscience innovation in Los Angeles County produced by UCLA TDG (Technology Development Group) - the tech transfer office for the University. This event is a collaboration with colleagues from across the  county to present promising academic research, entrepreneurial faculty investigators, as well as local incubators and start up companies. It is intended to promote awareness  of the growing life science entrepreneurial ecosystem in Los Angeles and  to foster partnerships with the biotechnology and life science industry.
Throughout the day, faculty members present their latest scientific breakthroughs, which will lead to the critical therapies of tomorrow. Leading bioscience translational research programs and start ups will be showcased where Southern California Institutions have significant expertise, pioneering research and resource commitments directed towards developing innovative patient therapies.
IMPORTANT COVID-19 POLICY UPDATE
LABEST 2022 Health and Safety Protocols
LABEST is committed to creating a safe event for all attendees at the conference. All attendees will be notified of attendance requirements and changes as the event approaches. 
If you are exhibiting cold or flu-like symptoms, have knowingly been exposed to COVID-19, or have received a positive COVID-19 test within 10 days of the start of the event, please stay home and do not attend the LABEST 2022 event. 
LABEST 2022 COVID-19 Policy 
To mitigate the risk of COVID-19 to University's staff, guests, and attendees, LABEST and Luskin Conference Center requires proof of full vaccination. Attendees must present a photo ID along with proof of CDC definition of being fully vaccinated against COVID-19. In addition, we are requiring all attendees to wear masks while indoors except when actively eating or drinking from the refreshment stations in the venue. Please note that University protocols, and those of local health authorities, may be updated periodically.
DINING UPDATE – All Outdoors
The LABEST Breakfast Buffet can be enjoyed on the Centennial Outdoor Patio adjacent to the Main Ballroom and the LABEST Lunch and Reception will take place completely outdoors on the Centennial Terrace.
LABEST CONFERENCE APP Powered by JUJAMA is OPEN to ALL LABEST 2022 REGISTRANTS!
JUJAMA is a powerful networking platform that will allow you to connect with fellow conference attendees, schedule meetings, view agendas and more! Use the desktop portal or the App to manage your schedule and request meetings in advance of the conference. The Conference App is customized for LABEST 2022 and is accessible on iPhones, Android and any web-enabled device.
Free App as part of your registration
View All the LABEST Attendees
Schedule Meetings with other Attendees
Dedicated Jujama Partnering Rooms on the 2nd Floor of Luskin Conference Center
Make new connections
Have Fun and Participate in Scavenger Hunt!
DOWNLOAD and VIEW DETAILS on LABEST CONFERENCE APP
 WATCH THE #LABEST2022 VIDEO (click on the LABEST graphic below to launch video)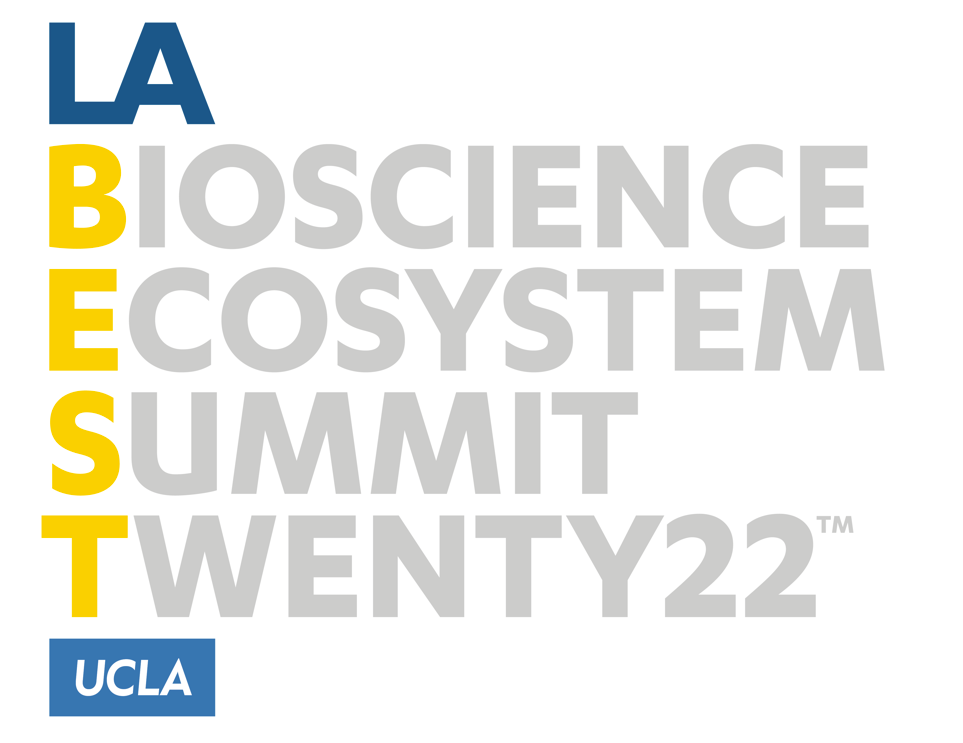 LABEST IS A 4 TRACK CONFERENCE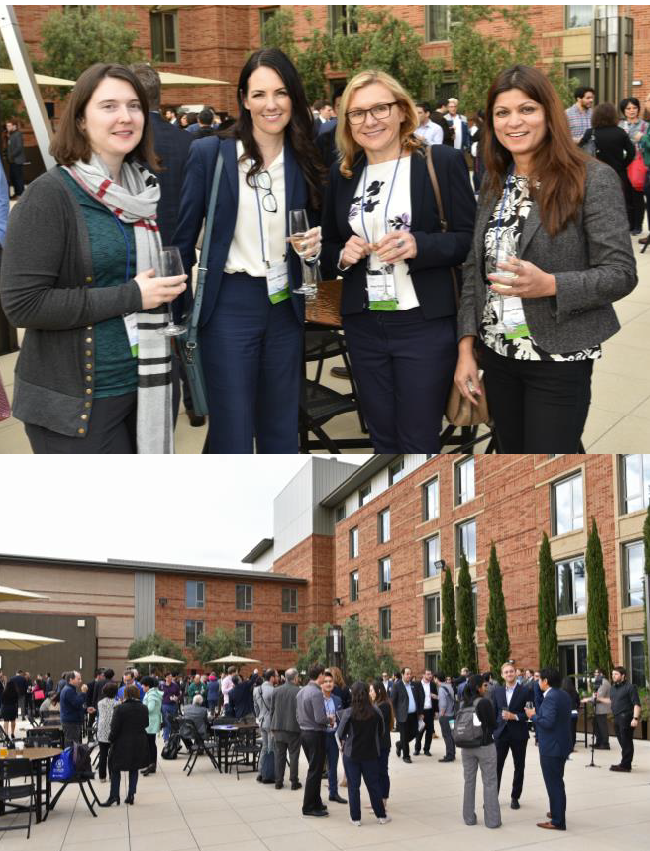 (all panels and speakers subject to change)
1) MAIN TRACK -  Exciting panels with the current leaders of bioscience 
VIEW MAIN TRACK AGENDA (PDF) updated 5.23 
UCLA PROFESSOR 2022 SPOTLIGHTS    PARTNER 2022 SPOTLIGHTS
2) LOS ANGELES INCUBATOR SHOWCASE by The Lundquist Institute and Sponsored by SMBC - Six Los Angeles area Incubators will bring in the best of their residing start ups to fast pitch
VIEW LA INCUBATOR SHOWCASE AGENDA (PDF) updated 5.19   
3) UCLA RESEARCH SHOWCASES - UCLA's eight Unified Research Themes are organizing interactive sessions to showcase research programs, translational faculty, successful biopharma collaborations and startups. 
VIEW UCLA RESEARCH SHOWCASE  A & B AGENDA (PDF) updated 5.23
 SHOWCASE A
     10:05 AM Metabolism of Aging and Cancer & Metabolism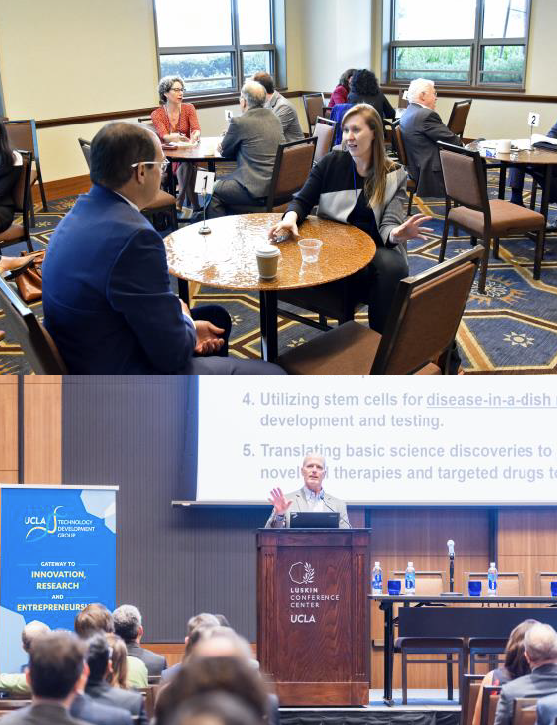 11:10 AM Neuroscience Breakthroughs: From Molecules to Patients   
     1:50 PM   Introduction to HETSS - Health Equity Translational Social Science         
     3:00 PM   Precision Health
     SHOWCASE B
     10:05 AM The Global Reach of I3T Research: Innovation for Current and Emerging Infections
     11:10 AM Cardiovascular Innovation
     1:45 PM  Cancer: Immuno-Oncology
     3:30 PM  Regenerative Medicine
4) NUCLEATE | UCLA PDA PROGRAM for LIFE SCIENCE ENTREPRENEURS - a custom educational track designed especially for Post Docs and Graduate Students featuring seven student teams who will fast pitch as well as workshops for budding life science entrepreneurs. This track includes a special panel on Diversity, Equity and Inclusion Strategies for Recruitment and Retention in Life Science. Recruitment reps from local pharma and other companies will be participating! 
NUCLEATE UCLA PDA AGENDA (PDF) updated 5.19
PEARL COHEN POSTER AWARD COMPETITION - **POSTER COMPETITION NOW CLOSED**
UCLA TDG accepted submissions for the Pearl Cohen Poster Award Competition ($250 - $750 cash prizes) which is a unique opportunity to showcase your bioscience research programs in front of pharma and biotech industry leaders. All accepted submissions will be displayed during digital "Poster Plaza Session", arranged by therapeutic area, with three presentation timeslots (complimentary admission included for the lead author).  Award winners will be announced during the event.  See Details
LABEST 2022 GENERAL REGISTRATION $300
UCLA COMMUNITY Special rates are available for UCLA Staff, Faculty $35 and UCLA Students $5  but know that tickets to the event are very limited. 
THANK YOU TO OUR SPONSORS!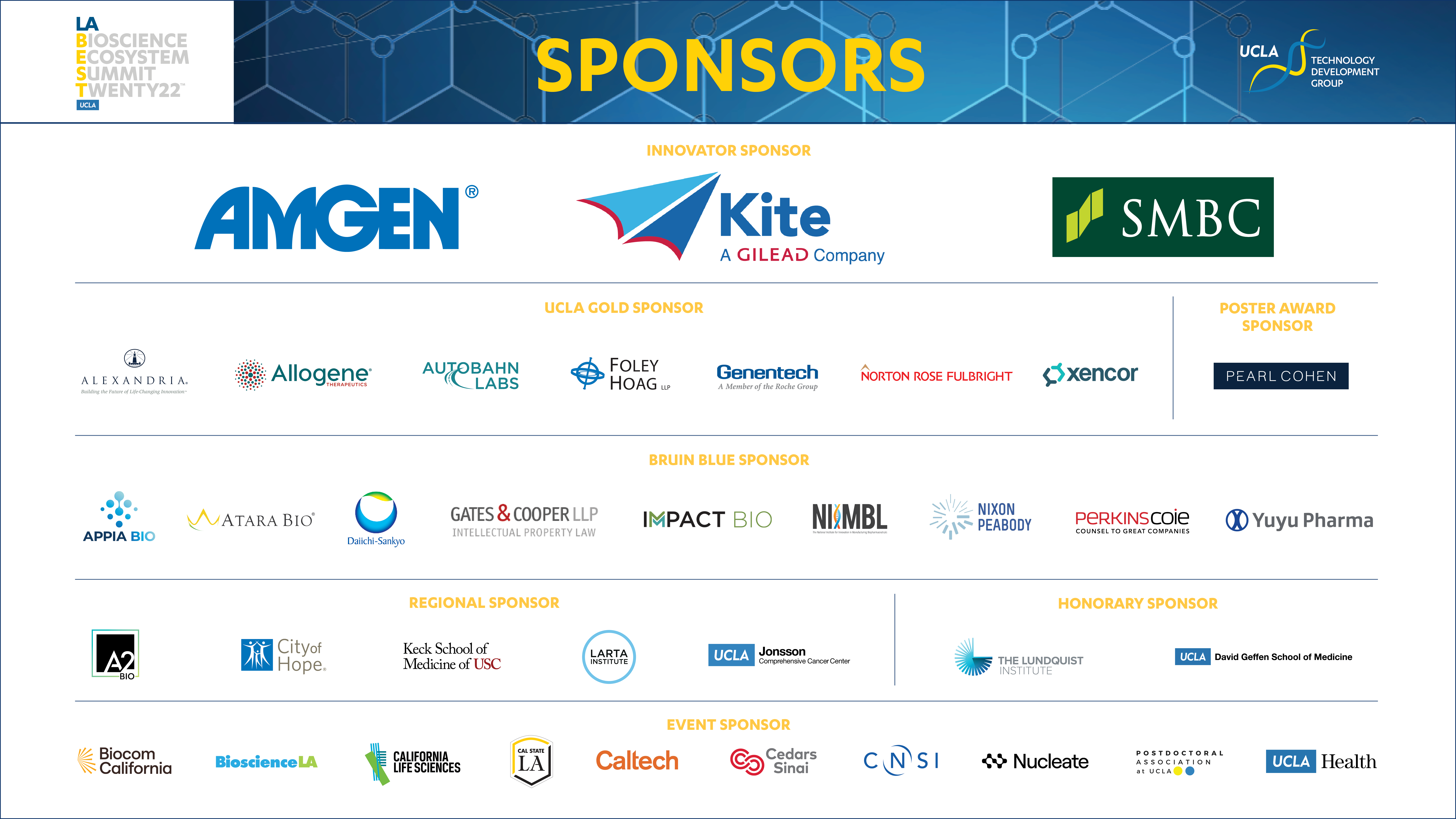 LABEST 2022 SPONSOR LINKS
ALEXANDRIA  ALLOGENE  AUTOBAHN LABS  FOLEY HOAG LLP 
 GENENTECH  NORTON ROSE FULBRIGHT  XENCOR
 APPIA BIO  ATARA BIO  DAIICHI-SANKYO  GATES & COOPER LLP 
 NIIMBL  NIXON PEABODY  PERKINS COIE  YUYU PHARMA  
 A2 BIO  CITY OF HOPE  LARTA INSTITUTE  Keck School of Medicine - USC    
LUNDQUIST INSTITUTE  DAVID GEFFEN SCHOOL OF MEDICINE - UCLA 
BIOCOM CALIFORNIA  BIOSCIENCE LA  CALSTATE LA  CALTECH 
Cedars Sinai CNSI  NUCLEATE  UCLA HEALTH 
UCLAPDA California Life Sciences