-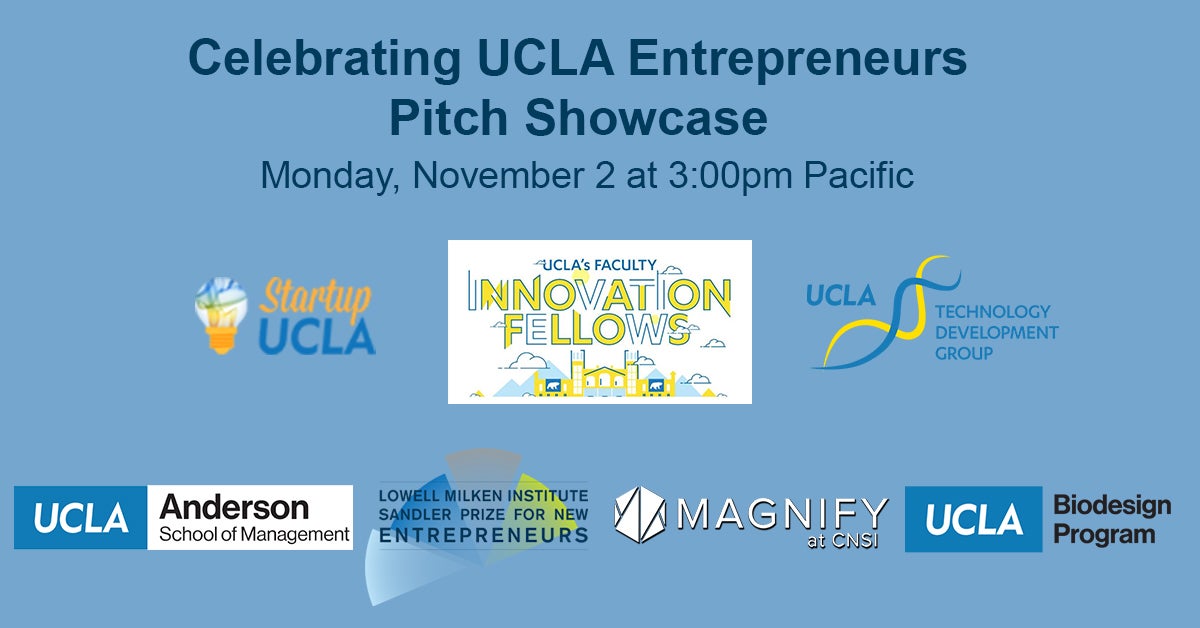 The webinar has ended but you can watch the entire program on the
Join us as we celebrate entrepreneurship and innovation being cultivated through signature programs at UCLA designed to hone great ideas and put them into action.
DATE and TIME: Monday, November 2, 2020 at 3:00pm Pacific
ON ZOOM - FREE and open to the public 

UCLA program leaders will share highlights along with startup teams pitching their latest innovations from each program.

CNSI Magnify Incubator
Faculty Innovation Fellows
Lowell Milken Institute-Sandler Prize for New Entrepreneurs
Startup UCLA Summer Accelerator
UCLA Anderson
UCLA Biodesign

This exciting event will highlight teams representing signature UCLA programs. Each team will present their innovation before a virtual audience of industry leaders, venture capitalists, and the UCLA community, coming together to support and empower UCLA entrepreneurs towards becoming the next generation of top-tier industry leaders. The teams hail from both North and South campus, representing the diverse landscape of knowledge and excellence that distinguishes UCLA.
PITCH SHOWCASE DETAILS (*newly added!)
UCLA Faculty Innovation Fellows (2nd cohort)
Oliver Brandenberg, Postdoctoral Scholar, Department of Human Genetics; PolyPro, a microbial system to turn plastic waste into value
Jason DeLeon, Professor of Anthropology and Chicana/o Studies; Undocumented Migration Project, establishing a center for under-represented student, art exhibition, cultural education and resources
Liting Deng, Postdoctoral Scholar in Dr. Daniel Geschwind's Lab, Department of Neurology; research with modifying targeted protein levels in the body to reduce neuro-degradation
Tamara Grisales, Leena Shankar, Assistant Clinical Professors; vaginal drug delivery tool 
Maja Manojlovic, Continuing Lecturer, Faculty Advisor for WII Pedagogy, UCLA Writing Programs; Scribe VR, concept for a virtual reality application for immersively composing, ideating and self-expression in 360 degree space
Iman Mehdipour, Assistant Project Scientist; CO2Concrete, turns CO2 emissions into construction materials (concrete blocks) and products without a need for carbon capture
Nelson SooHoo, Professor, surgical assist arm for orthopaedic surgical procedures
Lowell Milken Institute-Sandler Prize Teams from spring 2020
Sahara empowers users to develop hardware as quickly and cheaply as software by allowing developers to remotely connect to circuit boards, chips, and test equipment in the cloud.
Wise Earthcare is a "cleantech meets healthcare"​ company with a mission to greatly reduce plastic waste in oral healthcare.
OYA Femtech Apparel is the first femtech leggings company that considers feminine fit and lifestyle needs.
Magnify Incubator Teams
Forcyte Biotechnologies the first company aiming to tackle diseases of cell mechanobiology by directly screening contractile cell force in an automation-friendly and high-throughput format.
Gradient Orthodontics focused on the development of innovative materials for the fabrication of Clear Aligners with Enhanced Stress Retention, directly improving the efficiency of orthodontic treatments.
MyoGene Bio committed to developing cutting-edge therapies to have a significant impact on disease progression for devastating muscle disorders.
Sardona Therapeutics discovering and developing small molecules that target RNA regulators to overcome therapy resistance in cancer.
Lactation Lab specializing in the analysis of breast milk for basic nutritional content like calories, protein, fat, vitamins, DHA and environmental toxins.
Startup UCLA Summer Accelerator
Beyond Acoustic combines the power of ultrasound, optics and AI to deliver a wearable device that enables a new way of navigating daily life for people with visual impairment.
Fil2r sustainable water filtration solutions for at home use. 
UCLA Anderson
Dalton Bioanalytics a UCLA spinout that digitizes the biochemical composition of bio-fluids, simplifying the analysis of small molecules
Fitpass a fitness marketplace mobile app that allows users to access thousands of fitness classes with a single monthly subscription
Nur Labs using materials science and bioinformatics to modernize the lung cancer screening process
Clear Club offers custom, high quality dental guards direct to your door at an affordable price.
UCLA Biodesign
Cranioview improves intracranial pressure (ICP) monitoring and reduces costs of care by leveraging non-invasive imaging technology at the bedside.
Orthios is a patient-centered platform to optimize the orthopaedic joint replacement journey.
Protean Surgical Instruments is transforming endovascular therapeutics through innovative robotic technology.