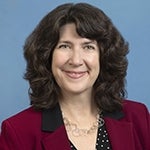 Dina Lozofsky MBA
Senior Director of Business Development, Physical Sciences and Engineering & MedTech
Business Development and Technology Transfer
Dina Lozofsky serves as the Senior Director of Business Development, Physical Sciences and Engineering.  Dina joined UCLA TDG in August 2019, bringing more than 25 years' experience working in and around science and technology in Southern California. Most recently, Dina was the Executive Director at Biocom, leading Biocom's efforts to help grow and support the LA life science industry, raising awareness around the regional cluster's many research accomplishments. Before joining Biocom, Dina was the Associate Director for Licensing and Business Development at UC Santa Barbara's Office of Technology and Industry Alliances, where she managed a program to mentor and support startup companies formed around UCSB technology. 
Dina has deep experience in intellectual property (IP) management and in leveraging IP to structure strategic alliances for both companies and universities, facilitating university collaboration with industry and fostering startup formation and licensing. She was also Vice President, Corporate Development for Solarmer Energy, a next generation solar startup spun out of UCLA, leading the company's efforts in strategic relationships, business development, intellectual property, legal affairs, and marketing and worked with BTG International as Associate Vice President in their acquisitions group. 
Dina holds a BS in Aerospace Engineering from MIT, an MBA from USC's Marshall School of Business and is a registered Patent Agent.