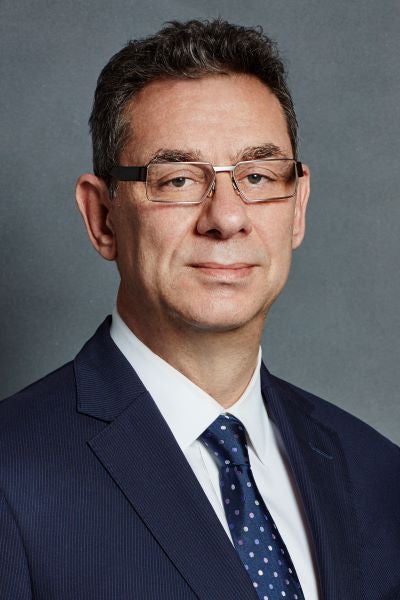 Pfizer Chairman and CEO Dr. Albert Bourla to Keynote LABEST at UCLA Luskin Conference Center on May 25, 2023
Los Angeles Area Bioscience Academic Institutions, Researchers, Industry, and Investors to Converge at UCLA Luskin Conference Center
UCLA Technology Development Group (UCLA TDG) announced today that Albert Bourla, Chairman and CEO of Pfizer will be a keynote speaker at the Los Angeles Bioscience Ecosystem Summit '23 (LABEST, pronounced L-A Best.). Dr. Bourla joins Daren Tang, United Nations World Intellectual Property Organization Director General (UN WIPO) who will also deliver a keynote address at the event.
"The pandemic heightened our recognition that many of today's most disruptive global healthcare challenges are too great for any one organization to tackle alone. They require world-class collaboration to fuel game-changing innovation," said Dr. Bourla. "The biotech ecosystem is a major engine of innovation and growth, and an increasing percentage of research candidates are coming from the biotech sector. At Pfizer, we want to help catalyze this ecosystem to help transform these candidates into medicines and deliver more breakthroughs for more patients more quickly."
Drawing on his 30 years of experience at Pfizer, Dr. Bourla will discuss the evolution of the research ecosystem in life sciences, the importance of biotech startups and how both academia and large biopharmaceuticals companies can catalyze this ecosystem.
"Biotech is the lifeblood of innovation, and the greater L.A. ecosystem of world-class academic centers, research institutions and bioscience companies is nourishing exciting growth. I am proud to be part of this collaborative network and thrilled by the growing interest LABEST now commands from leaders throughout the biopharma world." said Arie Belldegrun, Roy and Carol Doumani Chair in Urologic Oncology, UCLA.
For the 5th year Dr. Belldegrun will moderate one of the summit's most highly anticipated panels: Meet the Leaders in the Business of Life Science. Executives on the prestigious panel include
Norbert Bischofberger

, President & CEO, Kronos Bio

David Chang

, President, CEO, and Co-Founder, Allogene

Mark Cobbold

, MD, PhD. VP Discovery Oncology,

Head of Oncology Cell Therapy, AstraZeneca

Aamir Malik

, Chief Business Innovation Officer, Executive Vice President, Pfizer

Dennis J. Slamon

, MD, PhD, Director of Clinical/Translational Research, and Revlon/UCLA Women's Cancer Research Program, Jonsson Comprehensive Cancer Center
LABEST is the premier showcase for bioscience innovation in Southern California. With national and international presenters and attendees and a true collaboration with colleagues from across LA county, LABEST presents promising academic research, entrepreneurial faculty investigators, and local startup companies. The goal is to highlight the vibrant startup ecosystem and to facilitate partnerships between academia, the biopharma industry, entrepreneurs and investors.
UCLA TDG is excited to fill the UCLA Meyer and Renee Luskin Conference Center once again for the 2023 event, which will be held on May 25. Throughout the summit, faculty members present the latest scientific breakthroughs, which may lead to the critical therapies of tomorrow. Leading bioscience translational research programs and startups will be showcased where Southern California Institutions have significant expertise, pioneering research and resource commitments to develop innovative patient therapies.
LABEST INFORMATION #LABEST2023 @UCLATDG
DATE: May 25, 2023
TIME: 8:30am – 7:00pm PT
LABEST OFFICIAL WEBPAGE: https://tdg.ucla.edu/news-events/events/labest-2023
LINK TO 2023 PROMOTIONAL VIDEO: https://www.youtube.com/watch?v=6UbfHQhUePY
REGISTRATION:  
https://web.cvent.com/event/f3b8fb91-0d21-4987-8840-cb9899ed0153/regProcessStep1
WHERE: UCLA Meyer and Renee Luskin Conference Center
AGENDA: https://tdg.ucla.edu/sites/default/files/2023-04/LABEST%202023%20Agenda%20v13.pdf  
SCHEDULE:
https://tdg.ucla.edu/sites/default/files/2023-04/LABEST%202023%20Schedule%20At-A-Glance%20v02.pdf
KEYNOTE SPEAKERS
Dr. Albert Bourla

- Chairman and Chief Executive Officer, Pfizer

Daren Tang

-

United Nations World Intellectual Property Organization Director General (UN WIPO)
CONFERENCE HIGHLIGHTS
In-person conference taking place at the UCLA Meyer and Renee Luskin Conference Center

Fireside chat with UC Regents and UCLA Chancellor

12 Interactive Showcases

Los Angeles

Startup Ecosystem

Showcase,

Co-Hosted by the Larta Institute and the Lundquist Institute
LABEST SHORT TALK/PANEL DESCRIPTIONS
Panel - LA Hospital Leaders Innovating For Future Success:

Moderator Judy Fortin,

Chief of Communications for UCLA Health

.

A panel discussion with Hospital CEOs from our long-standing LABEST partners in the Los Angeles area, covering challenges, accomplishments, and what the future has in store for Hospitals.

Showcase -

"Accelerating Innovation in Oncology":

Led by Edward B. Garon, MD, MS, Thoracic Medical Oncology.

  
UCLA Technology Development Group (TDG) serves as a campus-wide gateway to UCLA innovation, research and entrepreneurship. Our mission is to: -Promote UCLA innovation, research, teaching and entrepreneurship to benefit society -Create economic value to support UCLA's scholarly and educational missions and the State of California -Lead UCLA's research community to bring innovation to market
Website: http://tdg.ucla.edu