-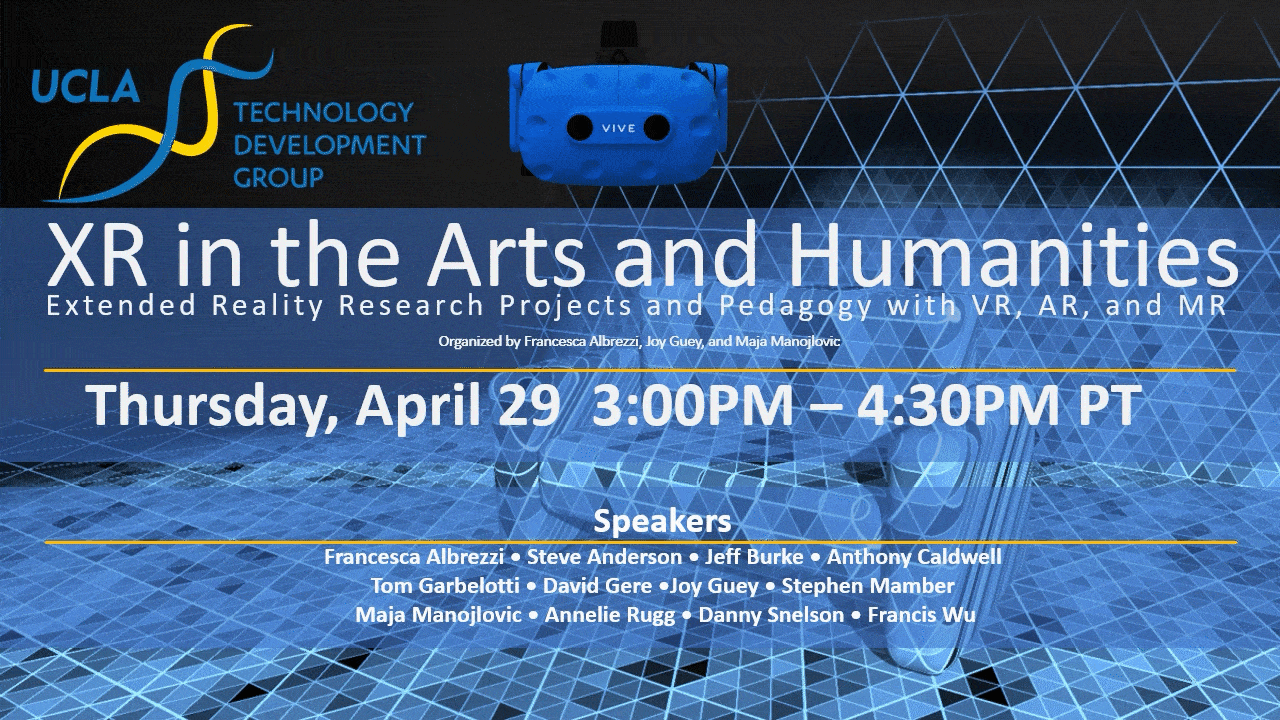 THE WEBINAR HAS ENDED BUT PLEASE EXPLORE THE LINKS BELOW
REFERENCE LINKS FROM XR DISCUSSION
Explore on your own! VR Hubs Environment
Youtube Playlist of Presentation Videos
Video Presentation Transcripts
XR in the Arts and Humanities: Extended Reality Research Projects and Pedagogy with VR, AR and MR
ABOUT the WEBINAR
Date: Thursday, April 29, 2021
Time: 3:00pm Pacific
The webinar is FREE but you must REGISTER HERE
XR IN THE ARTS AND HUMANITIES:
Extended Reality Research Projects and Pedagogy with VR, AR, and MR
This webinar showcases the UCLA XR Initiative (XRI), and projects by its associate faculty in the Arts and Humanities. Working with XR technologies of virtual (VR), augmented (AR), and mixed (MR) realities, their work spans research, performance, app development, and classroom pedagogy. Individual speakers and teams will give lightning talks on the following topics:
-Teaching app for the research of 3D films in VR
-Creative VR projects designed to catalyze reflections on a diverse UCLA campus community, and individual stories by people living with HIV
-Architectural reconstructions of historic Theaters in Downtown LA with AR
-Experimental multimedia performance with MR
-VR app concept for writing in a 360 space
-Classroom pedagogy with VR

Audience attending the webinar will have an opportunity for a Q&A with the speakers, while those unable to attend can view and interact with the projects in Mozilla Hubs.
PROJECT DETAILS and TEAMS
UCLA Architectural Reconstructions on Broadway Project documents the historic records and theater buildings in order to better understand the architectural practices surrounding these landmarks and to support their conservation. Team:  Anthony Caldwell, Assistant Director UCLA Digital Research Consortium, Manager | Resident Technologist Scholarly Innovation Labs. Joy Guey, Emerging Technologies Advocate, UCLA Social Sciences Center for Education, Research, and Technology.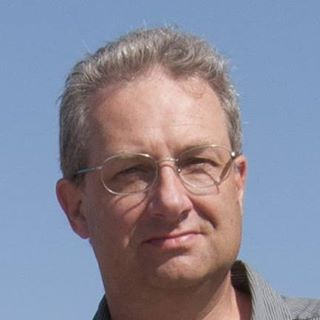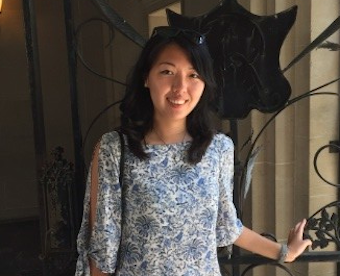 REMAP - The Center for Research in Engineering, Media and Performance (REMAP) is a joint effort of the School of Theater, Film and Television and Samueli School of Engineering that explores new, enriching cultural forms and empowering social situations enabled by the thoughtful interweaving of engineering, the arts and community development. REMAP will present recent work in Extended Reality (XR) live experiences. Team and Collaborators: Jeff Burke, Professor In-Residence, Theater and Director, UCLA REMAP, with UCLA TFT, UCLA Engineering and UCLA Anderson.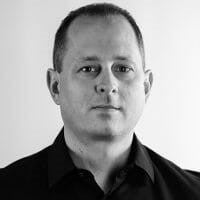 Through Positive Eyes at the Fowler Museum: A Virtual Exhibition Capture - A collaborative photo-storytelling project by over a hundred people living with HIV and AIDS around the world. Team: David Gere, PhD Professor, UCLA Department of World Arts and Cultures/Dance Director, UCLA Art & Global Health Center. Francesca Albrezzi, PHD Digital Research Consultant, UCLA Office of Advanced Research Computing.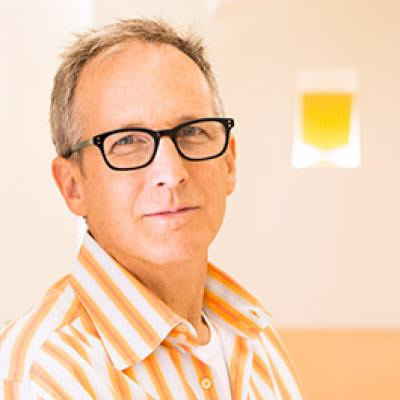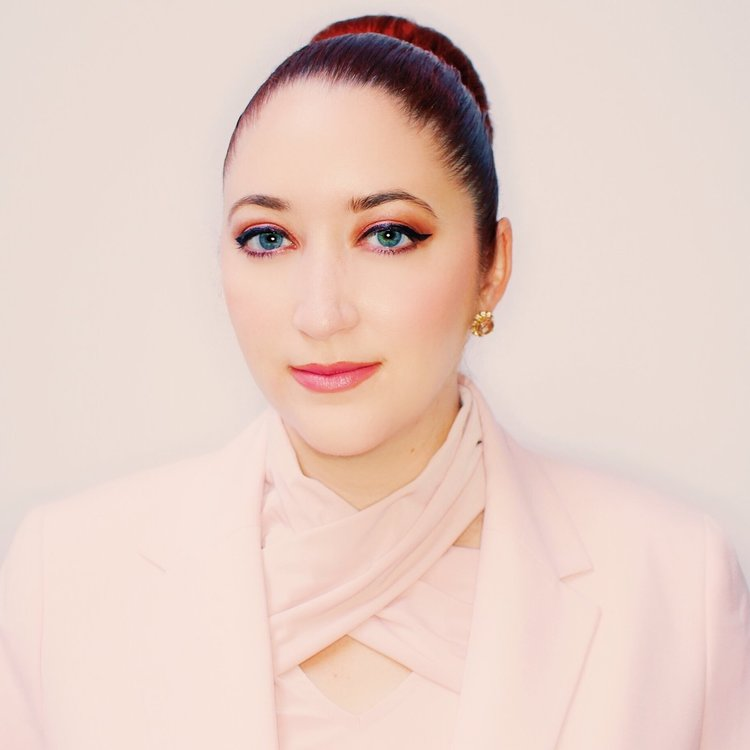 Scribe VR is a concept for an app to immersively compose, ideate, and creatively express oneself in a 360 space. Team: Annelie Rugg, Director and Humanities CIO at Humanities Technology. Tom Garbelotti, Instructional Technology Manager at Humanities Technology. Maja Manojlovic, Continuing Lecturer, Faculty Advisor for WII Pedagogy, UCLA Writing Programs.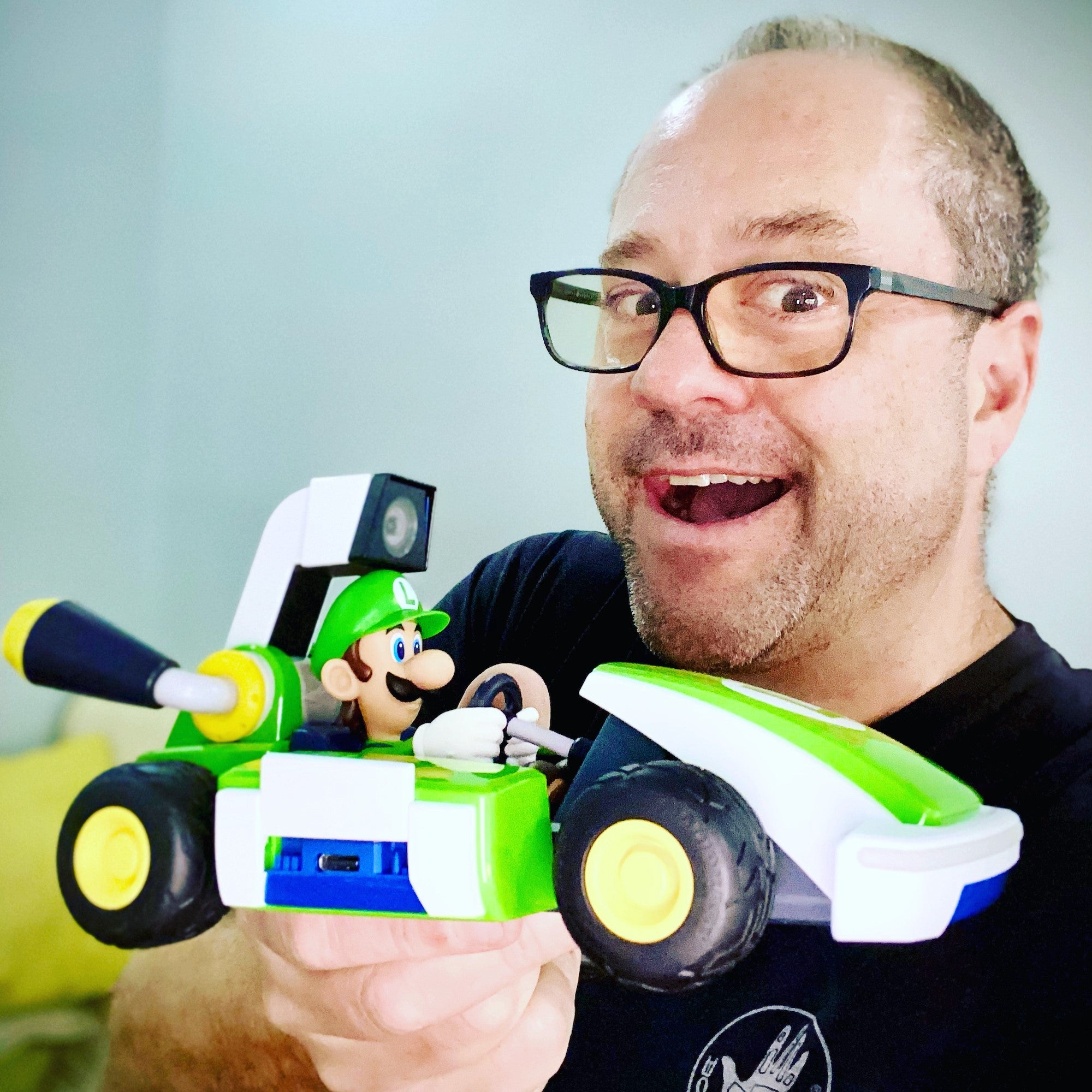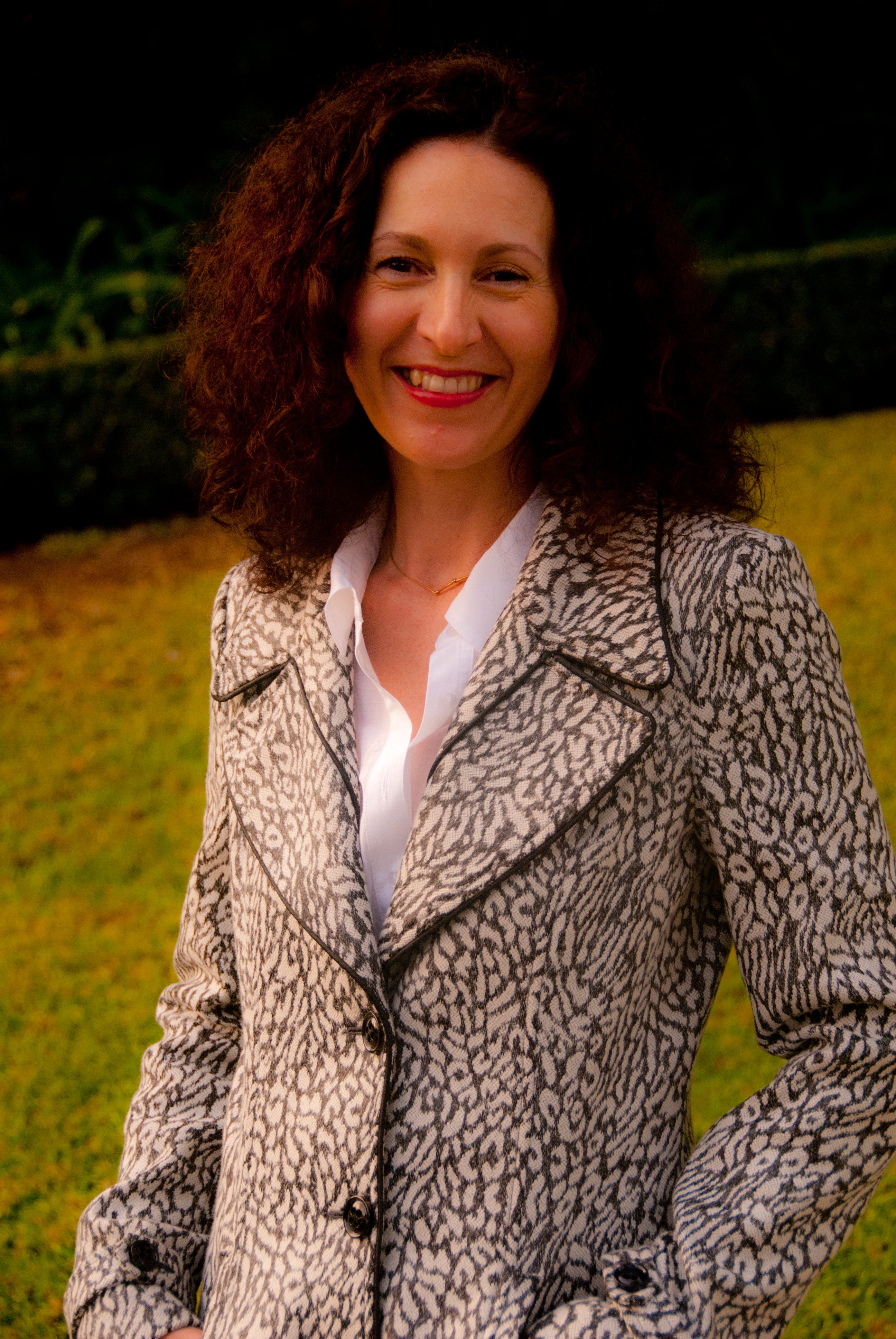 3D in VR - Using 3D Movies to Understand VR - A developing teaching application using 3D films to explore differences that VR has from conventional visual media. Team: Stephen Mamber Research Professor, UCLA Dept. of Film, Television, and Digital Media Cinema and Media Studies Program. mamber.filmtv.ucla.edu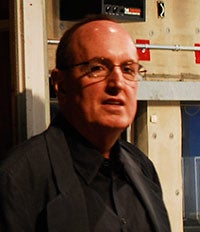 Breaking the Zoom Barrier: XR Experiments in Pedagogy & Production - Danny Snelson discusses recent developments in remote teaching with XR platforms in the arts and humanities using examples from courses offered over the past year. Team: Danny Snelson, Assistant Professor, UCLA Department of English, featuring XR projects created by students in the Department of English.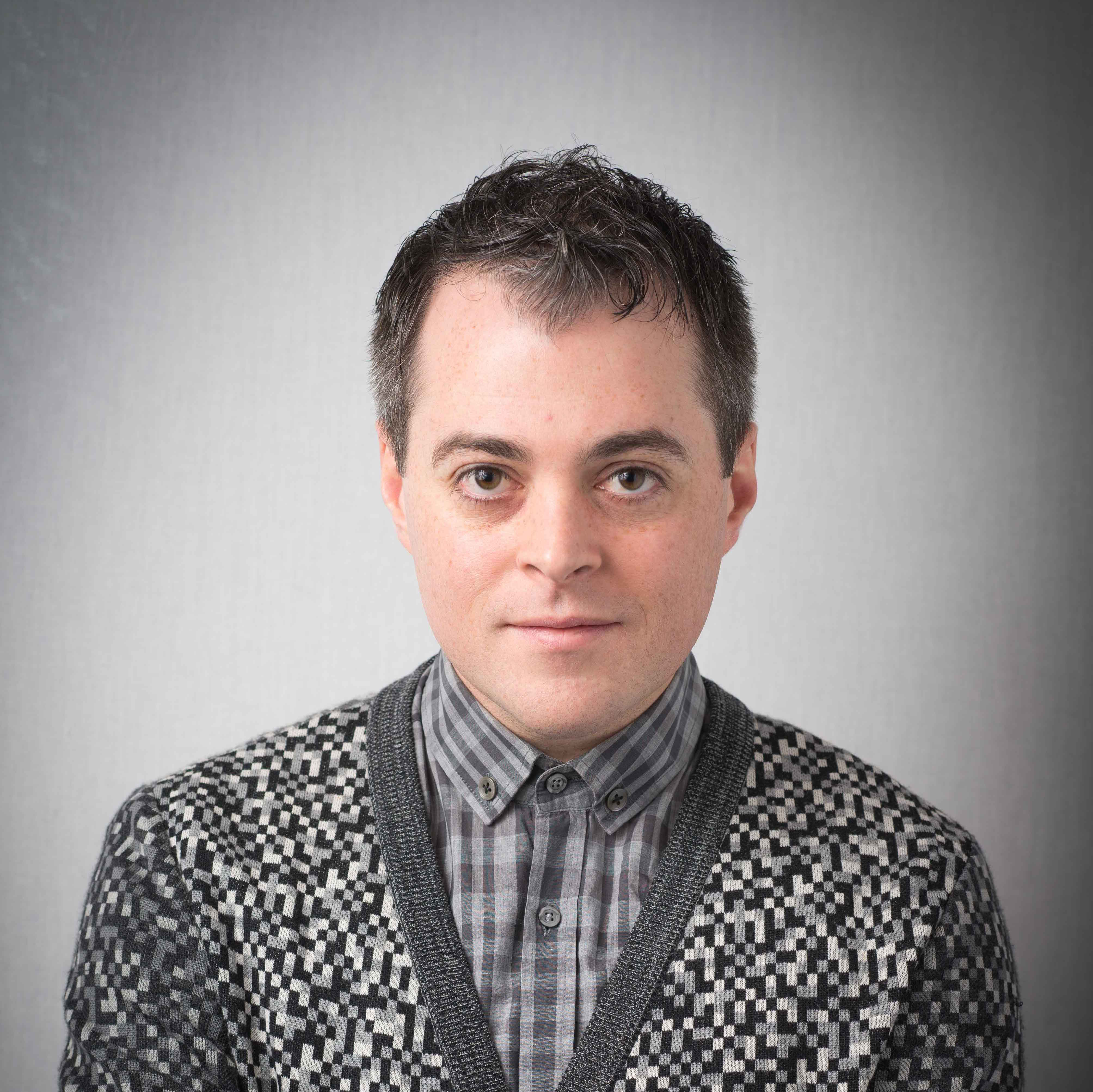 VirtualX mobilizes the unique affordances of Virtual Reality (VR) to invite reflection on how the environment shapes students' feelings of belonging and inclusion at UCLA. Team: BruinX team in UCLA's Office of Equity, Diversity and Inclusion, created by faculty and students in the departments of Film, Television & Digital Media and Design Media Arts and directed by Professor Steve Anderson.