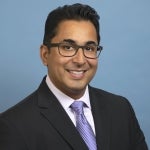 Tariq Arif, J.D., MBA, MSc.
Business Development Officer - Neuroscience, Regenerative Medicine, Infectious Disease, Ophthalmology
Business Development and Technology Transfer
In his role as Business Development Officer, Tariq is currently involved in the marketing, patenting, and licensing of UCLA's Life Science Technology portfolio, spanning infectious diseases, neurosciences and regenerative medicine. Tariq joined UCLA TDG in July 2016 and was responsible for the Medical Device portfolio. He left TDG in 2018 to become the Director of Alliance Management for Atara Biotherapeutics, an allogeneic T-cell immunotherapy company.  Prior to his time in TDG, he served as COO/CSO for a Houston-based healthcare startup, and as Associate Director at the Center for Innovation at Children's Hospital Los Angeles. Tariq brings 15 years of technology transfer experience, having handled licensing and technology transfer at Partners HealthCare Innovation in Boston, the NIH-National Cancer Institute in Maryland, and the Naval Research Laboratory in Washington, DC.  Tariq received his M.B.A from Northwestern University Kellogg School of Management, his J.D./L.L.M. from University of New Hampshire – Pierce Law, and his Master's of Science in Biochemistry and Molecular Biology from Georgetown University.