-
Labest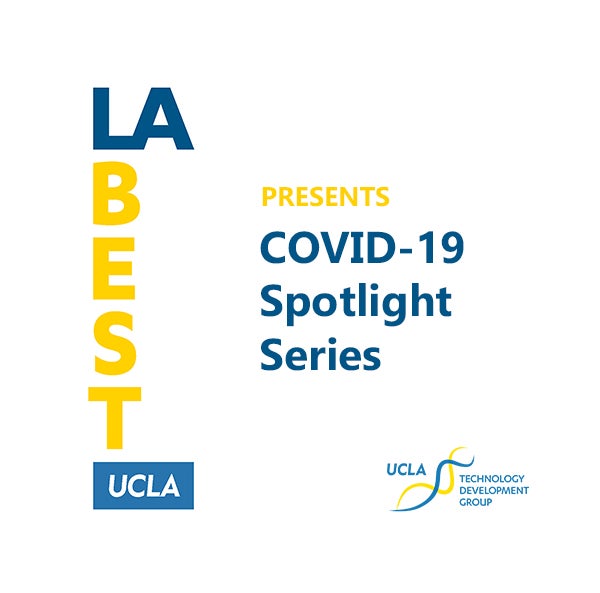 LABEST presents COVID-19 Spotlight Series - a webinar series that takes a topline view of key UCLA research focused on finding solutions to the Covid-19 pandemic.
Date: April 22, 2020
Time: 3pm PST
This is a free event but you must Register below.
Panelists:
Dr. Ren Sun, UCLA Department of Molecular & Medical Pharmacology
Dr. Otto Yang, Department of Medicine
Dr. Eran Halperin, PhD, Professor of Computational Medicine, Computer Science, Human Genetics, and Anesthesiology, Associate Director of Informatics, Institute for Precision Health, and the Head of AI in Medicine, UCLA
Dr. Daniel Kamei, UCLA Department of Bioengineering
About the Research:
Dr. Sun is generating affibody-coated test strips for saliva detection of COVID-19 in high population settings or at home testing. The diagnostic tests satisfy a large unmet need for rapid COVID-19 detection that will assist in the slow of viral spread.
Dr. Yang's lab has created a novel human protein nanoparticle-based antiviral vaccine that can be potentially targeted against several viruses. This vaccine has been tested against HIV and the common flu virus in mice, but could also be applied to coronaviruses, including SARS-CoV-2.
Dr. Kamei's lab at UCLA is to develop novel point-of-care (POC) diagnostics including lateral-flow immunoassays (LFA).  Early detection of diseases in resource-poor settings can lead to better patient management, faster administration of treatments, and improved outbreak prevention.
Dr. Eran Halperin is a computational biologist who studies the epidemiology of complex diseases using population genetics.  He is currently applying the genomic tools developed at his Big Data and Genomics Lab to help model the spread of COVID-19.  He is one of the leaders of the StopCovid initiative https://stopcovid19together.org/