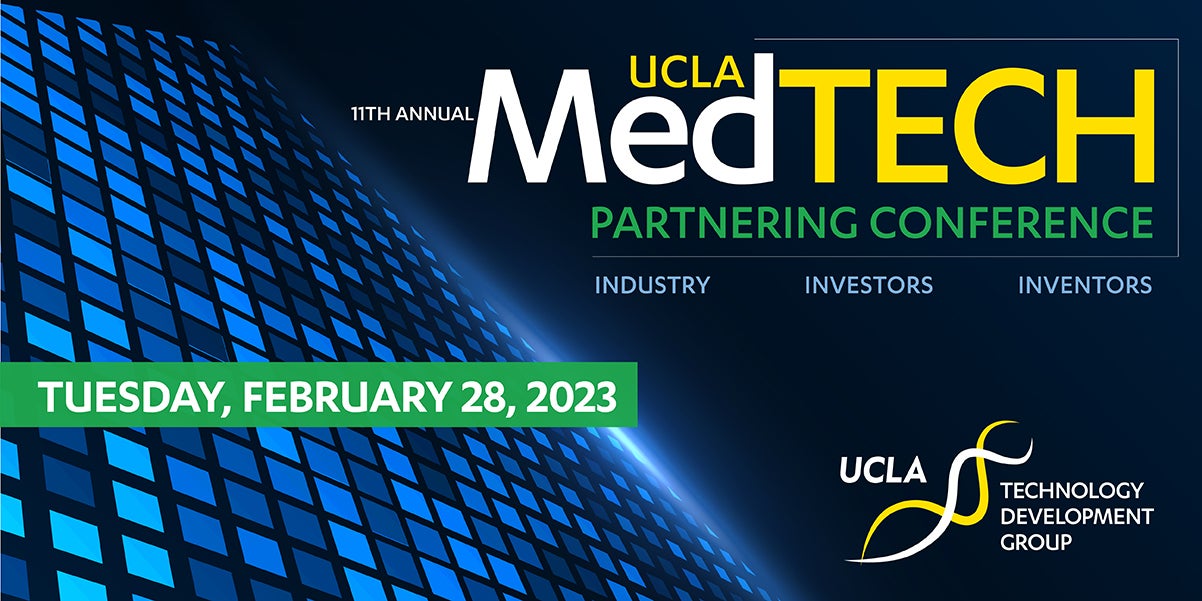 ABOUT
UCLA Technology Development Group is proud to host the 11th Annual UCLA MedTech Partnering Conference on Tuesday, February 28, 2023 from 9:30am to 7:00pm. 
The event provides a unique opportunity for inventors, investors and industry executives to establish new relationships for furthering innovation in this field. The conference will feature exciting panels that highlight recent developments and cutting edge technology. The DEMO Track will feature local innovations in Medtech. In addition there will be many opportunities to network and meet with colleagues and potential collaborators. 
General Registration $50.00 
Date: Tuesday, February 28, 2023
Time: 9:30am - 7:00pm
Where: UCLA Luskin Conference Center
Parking: UCLA Structure 8, Daily fees apply
PARTNERING LOUNGE
Starting Feb 1st, #UCLAMedTech 2023 Registrants will be able to view all conference attendees. We encourage you to reach out via LinkedIn and set up time to meet in-person at the MedTech Partnering Lounge during the event. Join the LinkedIn Event 
10:30am - 5:00pm AB Ballroom 
DEMO TRACK ROOM
11:00am - 5:00pm Medical Device Demo Track - Teams from UCLA, USC, Cedars Sinai, and more will pitch for prize money.
Demo Track Judges: 
John W. Peck, Partner, KPPB
Ryan Witt, Member, Tech Coast Angels
Thea Pham, Associate, OCV Partners
General Registration $50. 
TAG US ON SOCIAL
@uclatdg #UCLAMedTech2023

#LAMedTechWeek is an opportunity for the region's medtech innovators and advocates to come together, virtually and in-person, for talks, pitches, panels, networking, and more. Powered by BioscienceLA in partnership with MedTech Innovator and MedTech Color. #UCLAMedTech2023 is a proud partner of #LAMedTechWeek !
See Highlights from last year's event  #UCLAMedTech2022
Photos courtesy of Heromade
Thank you to our UCLA MedTech 2023 Sponsors and Partners