-
Medtech Conference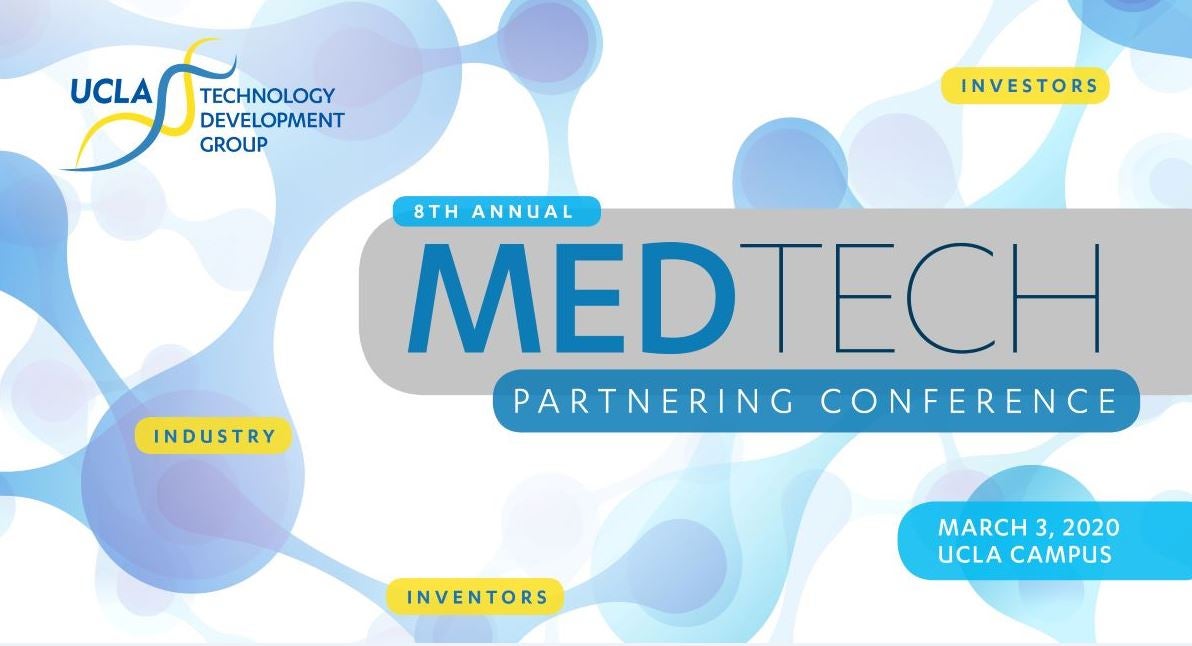 MEDTECH PARTNERING CONFERENCE - Tuesday, March 3, 2020
* This was a Sold Out event! Thanks to all who participated. Scroll down for photos! And click here for Videos of the talks.
ABOUT
UCLA Technology Development Group, in partnership with MedTech Innovator, is proud to host the 8th Annual UCLA MedTech Partnering Conference at the UCLA California NanoSystems Institute on Tuesday March 3, 2020 from 9:45 am to 7pm. The conference provides a unique opportunity for inventors, investors and industry executives to establish new relationships for furthering innovation.  In addition to the speaker track, the program includes a demonstration track of the latest innovations in medical devices from around the region, and a Partnering Lounge for 1-1 partnering organized via the jujama partnering app.
AGENDA
9:00am         Registration opens
9:30am        Partnering Lounge opens (5th floor Presentation Space)
9:30am        Welcome Remarks
                     Dina Lozofsky, Sr Director of Business Development, UCLA TDG
                     Paul Grand, CEO, MedTech Innovator
9:40am      State of the Industry
                    Casey McGlynn, Partner, Wilson Sonsini Goodrich & Rosati
10:00am      Accelerating Bio Discovery with Machine Learning
                     Philip Nelson, Director of Engineering, Google
10:30am      Rise of Digital Medication as an Alternative to Drugs        
                    Moderator: Joel Kehle, Business Development Officer, UCLA TDG
                    Benjamin Lewis, CEO, Limbix 
                    Martha Lawrence, CEO, AccendoWave

11:10am      UCLA TDG Innovation Fund: Crossing the Chasm (Fast Pitches)                                                                                                                                  Moderator: Matthew Savary, Innovation Fund & New Ventures Principal, UCLA TDG    
                    Three projects teams from the UCLA Innovation Fund portfolio will discuss their products, the need that gave rise to them and their impact on patients.
                    UCLA Biodesign Program
                    Introduction: Jennifer McCaney, Co-Executive Director, UCLA Biodesign
                    
11:55am      Lunch
1:00pm       Real World Data 
                   Jacqueline Law, Vice President, Global Head of Personalized Healthcare Data Science, Roche
1:20pm        Transforming UCLA IP into Products 
                      Moderator, Amir Naiberg, Associate Vice Chancellor/CEO of UCLA TDG
                    Jay Wang, CEO, and Zhen Gu, Co-founder, Zenomics and Professor, UCLA Department of Bioengineering
                    Koren Bertolli (CAO) and Nicole Durden (COO), Sonosim
                    These two fireside chats will discuss how our partners are transforming UCLA innovations into products.
2:00pm - 4:30pm       Demo Track in the Presentation Space!
                    Enjoy a series of 10 minute demonstrations throughout the afternoon from startups and research institutions from around the region. Feel free to pop in/out throughout the afternoon or while you are waiting for your partnering meetings to begin.
2:00pm      Current Perspectives/Trends in Digital Health and Patient Data
                   Moderator: Jill Gordon, Partner, Co-chair, Life Sciences Practice, Nixon Peabody
                   Clara Lajonchere, PhD, Deputy Director, UCLA Institute for Precision Health
                   Mike Pfeffer MD, FACP, Assistant Vice Chancellor and Chief Information Officer, UCLA Health Science
                   
2:45pm        Break    
3:10pm       Connected Medtech Product Development: Lessons Learned in a Complex Digital Ecosystem
                   Jan Zukowski, Director of Digital Products, Ximedica
                   Michael Neidert, VP Strategic Development, Ximedica                                                                                                                                            
 A discussion of watch-outs with early medical device product development, especially with regard to cloud connectivity, data, user design, user interface and more.
3:30pm      Investor Panel: Trends in the MedTech Industry    
                  Moderator: Hallie Kuhn, Principal, Alexandria Venture Investments
                  Jay Schmelter, Managing Director, RiverVest Ventures Partners 
                  Luke Hayes, Managing Director, Torrent Ventures
                  Caitlin Wege, Partner, MooDoos Investments
                  Hear from investors who are actively investing in our industry about what's hot, what's not and what interests them.
4:15pm      MedTech Innovator Award Winner
                  Introduction: Paul Grand
4:30pm       MedTech Terms for the Non-Scientist/Buzzword Bingo!    
                  Moderator: Matthew Savary, New Ventures Principal, UCLA TDG
                  Kwame Ulmer, Venture Partner, Wavemaker Three-Sixty Health
                  Amy Hurwitz, Project Leader, Boston Consulting Group                                                                                                                                                   
We are going to give the audience a chance to ask our experts about all that pesky jargon that everyone seems to know exactly what they mean(but maybe nobody does!). For all of you experts out there, this will also be Buzzword Bingo!
5:00pm       Partnering Lounge closes

5:00pm       Reception
This event is held in coordination with the MedTech Innovator LA Pitch Event on March 2, 2020. Attendance at the pitch event is by invitation only. Startups should apply here by Jan. 17 to be considered. If you are interested in serving as a reviewer for the LA Pitch Event, please email info@medtechinnovator.org.
#UCLAMedTech2020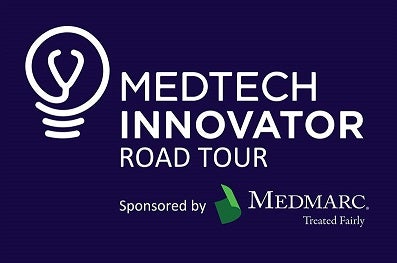 THANK YOU TO ALL OUR SPONSORS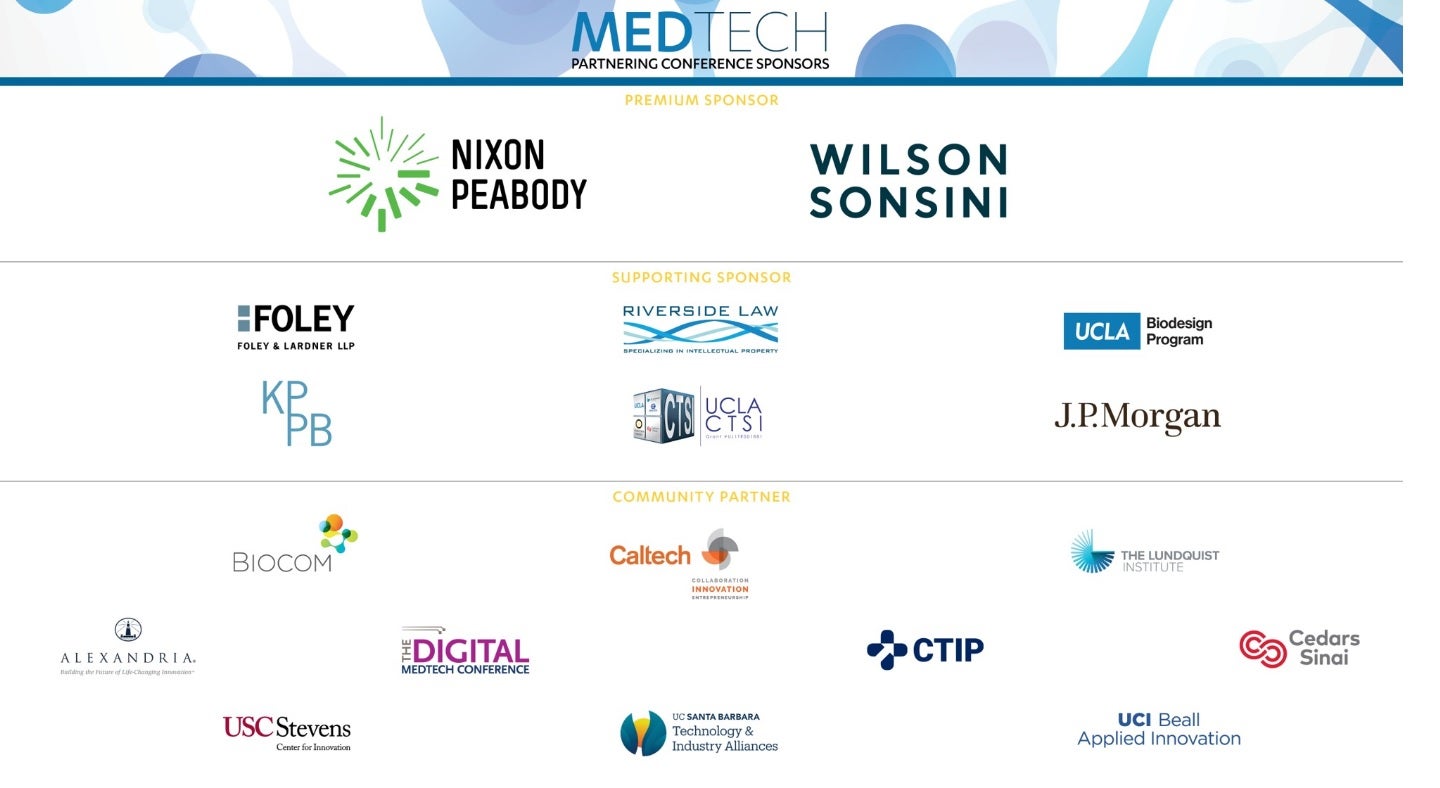 Stay in the know and sign up for our E-Newsletter here
For more Transportation options on how to get to the MEDTECH PARTNERING CONFERENCE
Area Airports to CNSI (exit at Luskin Center)
Local Transit Providers (exit at Luskin Center)
Getting Around Westwood
MedTech 2020 Photos * All photos by Todd Cheney tcheney@asucla.ucla.edu