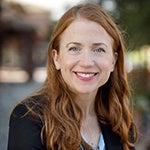 Angela Kujak, J.D.
Senior Director of Contracts
Contracts Management
Angi Kujak joined UCLA's Technology Development Group in November 2017 to serve as its first Director of Contracts, which position was created to improve the consistency, quality and efficiency of TDG's IP transaction negotiations. Angi is a registered patent attorney and provides IP transactional support to the Associate Vice Chancellor, and President & CEO of UCLA Technology Development Corporation, TDG's Licensing Directors and Officers, as well as its Industry Sponsored Research team members. Such support includes aiding in accelerating negotiations to execution, enhancing licensing strategy, and providing IP-related advice on copyright, trademark and patent matters and use of name. Her responsibilities also include drafting and negotiating a broad range of IP transactions and addressing complex technology commercialization issues, including those that uniquely arise from start-up company activities. In addition, Angi manages the Licensing Support Team members, who assist the Licensing Team with the drafting, negotiation, execution and monitoring of TDG's license agreements. Prior to joining TDG, Angi served as Assistant and Associate General Counsel for the Wisconsin Alumni Research Foundation for over seven years, and worked as a patent prosecution and litigation attorney at a private law firm for several years before specializing in IP transactions.