-
Medtech Conference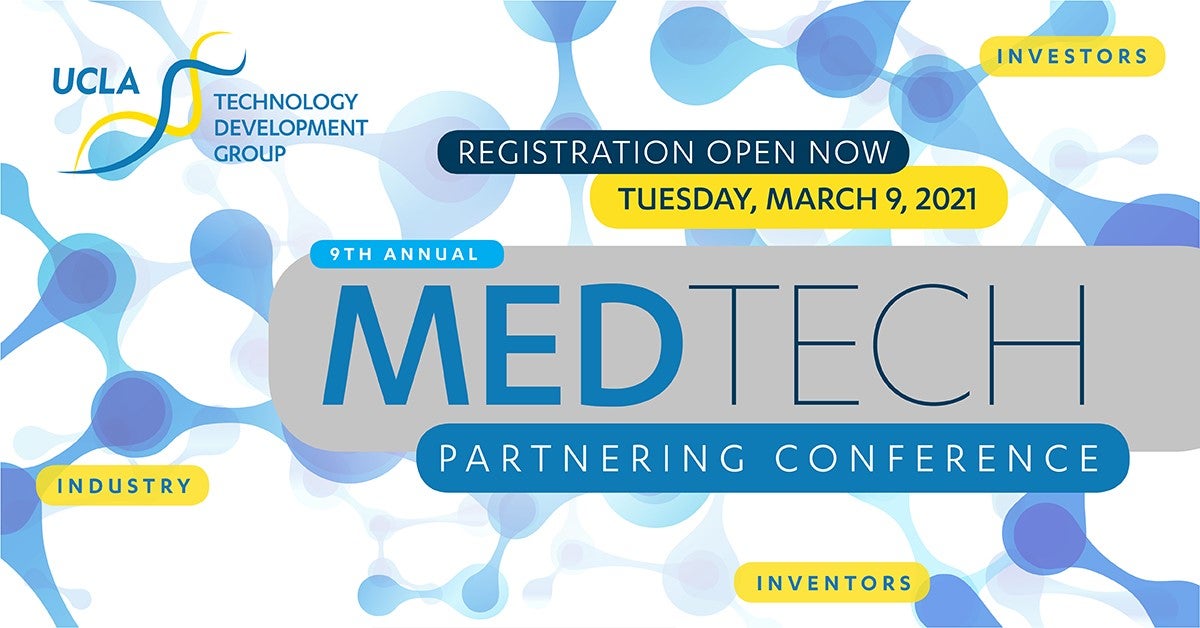 THE CONFERENCE HAS ENDED. MAKE SURE TO SAVE THE DATE TUESDAY, MARCH 8, 2022 for next year!
REGISTER HERE         JUJAMA ADVANCE PARTNERING     VISIT MEDTECH VIRTUAL CONFERENCE PLATFORM PAGE
IMPORTANT LATE REGISTRATION NOTE:
If you register Monday 3/8 after 6PM Pacific or Tuesday 3/9, there will be a delay to activate your virtual conference log-in. Once you are activated, you can use the email address that you registered with to log-in to the Official UCLA MedTech 2021 Virtual Conference Platform to start exploring https://uclamedtech2021.vfairs.com/   
Questions? Email the Conference Helpdesk: UCLAMedTech2021@getvfairs.io or skerr@ha.ucla.edu

UCLA MEDTECH 2021 CONFERENCE CHECKLIST
EXPLORE THE VIRTUAL CONFERENCE TODAY - It's like visiting the venue ahead of time! Simply log-in with the email address that you registered with. Check out the lobby, auditorium, partnering lounge and edit your day-of profile by adding a photo. Official conference URL https://uclamedtech2021.vfairs.com/ 
WATCH the EXPLAINER VIDEO to learn more about the virtual conference platform
START ADVANCE NETWORKING - Registered attendees received their Jujama App log in. Sign up to the app and start scheduling your meetings anytime between Now - March 12th.
PLAN OUT YOUR SCHEDULE - take a look at the tab marked "Agenda" and start planning out your day between sessions in the Auditorium and Demo Track Room. Plus, once we're live on Tuesday, March 9th, make sure you carve out time to hang out in the partnering lounge, attend a lunchtime chat, live chat with other attendees and visit the Exhibit Hall.
WATCH the WELCOME VIDEO from UCLA TDG's Dina Lozofsky and Amir Naiberg

We're excited to see you online next week! And if you haven't registered yet just click the button above.
ABOUT
UCLA Technology Development Group, in partnership with MedTech Innovator, is proud to host the 9th Annual UCLA MedTech Partnering Conference on Tuesday March 9, 2021 from 10am to 6pm. While presented virtually this year, the conference will continue to provide a unique opportunity for inventors, investors and industry executives to establish new relationships for furthering innovation in this field. The conference will feature exciting panels that highlight recent developments and cutting edge technology, there will be a demo track highlighting local innovations in medtech and partnering opportunities that will allow attendees to set up meetings with each other and UCLA faculty via the virtual conference platform.
This event is held in coordination with the MedTech Innovator LA Pitch Event. Attendance at the pitch event is by invitation only. If you are interested in applying or serving as a reviewer for the LA Pitch Event, please email info@medtechinnovator.org
Tag us on social @uclatdg use #UCLAMedTech2021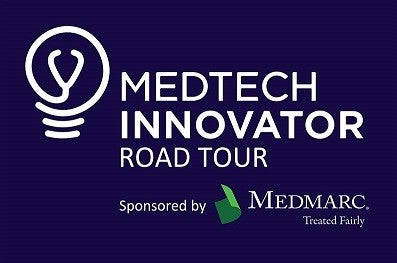 UCLA MEDTECH 2021 AGENDA* 
                                                                                 March 9, 2021 9:30 AM - 6:00 PM Pacific
Partnering Lounge 9:30 AM – 6:00 PM Pacific
Exhibit Booths 9:30 AM – 5:00 PM Pacific
Demo Track Room 11:00 AM – 3:00 PM Pacific 
Main Auditorium Schedule: 
Pacific Time

Title

Speakers

9:30  AM pacific

Exhibit Booths Open/ Networking/ BYOC

 

10:00 AM pacific

Welcome Remarks

MC: Dina Lozofsky, Senior Director of Business Development, Physical Sciences and Engineering & MedTech, UCLA TDG

10:10 AM pacific

Investor Panel: Trends in the MedTech Industry

 

Moderator: Kwame Ulmer Venture Partner, Wave Maker 360

Panelists:                                                                                    Terri Burke, Venture Partner, Epidarex Capital

Thomas Lee, Chair Medical and Life Sciences Committee,       OC Tech Coast Angels

Kevin Zhang, Partner, Upfront Ventures       

11:00 AM pacific

UCLA TDG Innovation Fund: Crossing the Chasm (Fast Pitches)

 

UCLA Biodesign Program

Moderator: Matthew Savary, Innovation Fund & New Ventures Principal, UCLA TDG

Various UCLA Pitches

Jennifer McCaney, Co-Executive Director, UCLA Biodesign

11:40 AM pacific

Case Study: The Path to Commercialization – Avenda Health

Moderator: Amir Naiberg, Associate Vice Chancellor, CEO & President, UCLA TDG

Shyam Natarajan, CEO, Avenda Health

12:00 PM pacific

Lunch/Networking

12:15-12:45 Themed Chatrooms

1:00   PM pacific

Real World Data

 

Jacqueline Law, Vice President, Research Product Management, Flatiron Health

1:20  PM pacific

Tracking and treating Depression with Digital Health Tools from UCLA's Depression Grand Challenge

 

Moderator: Joel Kehle, Business Development Officer,        UCLA TDG

Panelists:                                                                               Jonathan Flint, Co-Director UCLA Depression Grand Challenge & Professor of Psychiatry and Biobehavioral Sciences

Michelle Craske, Co-Director UCLA Depression Grand Challenge * Distinguished Professor of Psychology and Psychiatry & Biobehavioral Sciences

2:00  PM pacific

Beyond Philanthropy: business models for successfully serving the underserved

Moderator: Matthew Savary, Innovation Fund & New Ventures Principal, UCLA TDG

Panelists:                                                                                   Kathryne Cooper, Co-Director, CTIP                                   Josh Vose, Founder, World Hernia Project                       Dorothy Goldman, Founder, Oratel Diagnostics

2:45  PM pacific

Break

 Exhibit Booths Open/ Networking

3:10  PM pacific

Driving Digital and Data Solutions for Patients with Serious Illness

Eric Henckels, Director, Technology Strategy & Innovation, Amgen

3:30  PM pacific 

Should I stay or should I go (to the doctor): will Telehealth outlive the pandemic?

Moderator: Harsh P. Parikh, Senior Associate, Nixon Peabody LLP

Panelists:                                                                                    Dr. Eve Glazier, President, Faculty Practice Group,                  UCLA Health                                                                              Dr. Rekha Murthy, Professor of Medicine,                                 Cedars Sinai                                                                              Kaushik Srinivasan, Attorney, RHA

4:15  PM pacific 

MedTech Innovator "Judges Choice" Pitch

Paul Grand, CEO, Medtech Innovator

4:30  PM pacific

FDA as a Driver of Medical Device Innovation 

Murray Sheldon MD, Associate Director of Technology and Innovation, FDA/Center for Devices and Radiologic Health (CDRH)

5 – 6 PM pacific

Happy Hour!

BYOB * KAHOOT
* Schedule subject to change
 
Demo Track Room Schedule: 
| | | |
| --- | --- | --- |
| Time | Title | Team                             |
| 11:00am pacific | Welcome Remarks |  Ricky Rath, UCLA TDG |
| 11:15am pacific | Turning Video Calls into Health Sensors  |  Achuta Kadambi and Laleh Jalilian |
| 11:30am pacific | BaroHawk™ Blood Pressure Management System |  Perceptive Medical  |
| 11:45am pacific | Portable, Compliant, Real-Time Multi-Modal Diagnostic and Monitoring System    |  Waveflow  |
| Noon-1pm pacific | Lunch Break |   |
| 1:00pm pacific | Microfluidic Tissue Processing Platform for Single Cell Diagnostics |  Kino Discovery  |
| 1:15pm pacific | The MultiClip Device: A Better Tool for Gastrointestinal Hemostasis |  Digestive Designs  |
| 1:30pm pacific | CT-Guided Biopsy Angle Device  |  Samuel Yu    |
| 1:45pm pacific | Surfactant administration and airway support to very low birth weight infants (SAAVI) |  BB Medical Surgical  |
| 2:00pm pacific | Break |   |
| 2:15pm pacific | 5G Connected AI Powered ECG Monitor     |  QT Medical  |
| 2:30pm pacific | LUMI |  LegTrek  |
| 2:45pm pacific | Valero Dexterity Test® |  Neuromuscular Dynamics    |
| 3:00pm pacific | Avenda Health Office-Based AI Prostate Cancer Therapy |  Avenda Health  |
| 3:15pm pacific | Break / Judge Deliberation |   |
| 3:30pm pacific | Winner Announcement |  Judges |
                                          THANK YOU TO ALL OUR SPONSORS and PARTNERS
PREMIUM SPONSORS
SUPPORTING SPONSORS
COMMUNITY PARTNERS

Previous Conferences