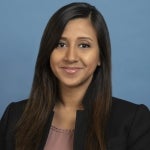 Debolina Kowshik, J.D.
Assistant Director of Contracts
Contracts Management
Deb Kowshik joined UCLA's Technology Development Group in November 2016 and currently serves as its Assistant Director of Contracts. Deb is a registered patent attorney and provides transactional and analytical support to TDG's Senior Director of Contracts through the drafting and negotiating of moderate risk agreements such as LOIs, Options, Bailments and IIAs, as well as handling more routine consulting, collaboration and confidentiality contracts, and agreement terminations.  Deb also assists with the license agreement due diligence process by ensuring all IP – patents, copyrights, and associated technologies – included in each license is adequately vetted for ownership and third party obligations. Deb brings over 10 years of experience, most recently managing the medical device team at a patent search firm, and prior to that working in the legal setting, clinical research arena, and at the lab bench. Deb holds a J.D. from Fordham University School of Law, a B.E. in Biomedical Engineering from Stony Brook University, and is a proud alumni of The Bronx High School of Science.