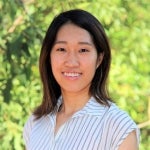 Moe Ishihara
Business Development Fellow
TDG Technology Fellows
Moe joined TDG as a Technology Fellow in January 2021. She is currently a PhD candidate at UCLA Department of Molecular and Medical Pharmacology, specializing in drug discovery and development in the oncology field. Her thesis work focuses on the role of the VHL gene in the progression of kidney cancer, and the expected graduation year is 2023.
Originally from Japan, Moe came to the United States to attend UCLA for her undergraduate study. She majored in Molecular, Cell, and Developmental Biology and minored in Bioinformatics, while also conducting research in the fields of neuroscience and stem cell. After obtaining a B.S. in 2017, Moe started her doctoral degree to further pursue her interest in biomedical sciences.   
At TDG, Moe's roles include drafting of NCD and marketing list on the life sciences side. Moe holds broad interests in the biotech industry, from R&D to consulting to venture capitals. To explore different career options, she actively participates in events, such as Penn Healthcare Case Competition (PHCC) 2020, where her team won 3rd place among the nationwide competitors. Outside of research, Moe enjoys various kinds of sports (ultimate frisbee, basketball, swimming, running) and visiting national parks.