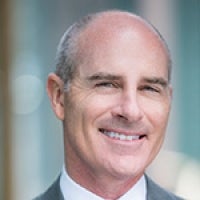 John T. Mapes
Managing Partner, Aurora Capital Partners
John Mapes is the Managing Partner of Aurora Capital Partners and Chairman of the Investment Committee. He has spent his entire 23 year professional career in the financial services sector.
Aurora Capital Partners was founded in 1991. With assets under management in excess of $2.0 billion, Aurora is a private equity investment firm that invests across a number of funds in middle market companies across the country. Aurora Capital Partners is currently investing out of its sixth fund. The Firm acquires controlling interests in companies in such sectors as: specialty manufacturing, distribution and software/tech-enabled services. In addition to leading the Firm's private equity practice, John is a member of the Firm's Executive Committee. While he has extensive board experience with other Aurora-invested companies through the years, John currently sits on the Boards of National Technical Systems and Restaurant Technologies, Inc.
Following his graduation from UCLA with a BA degree in Economics/Business in 1990, where John played varsity tennis for the Bruins, he spent two years with Salomon Brothers, Inc. in both New York and Los Angeles, in their Corporate Finance Group. He left Salomon Brothers to join Aurora in 1992 and then rejoined the Firm after attending and graduating from Harvard Business School in 1995.
John and his wife have a son entering his sophomore year at UCLA and a daughter attending Campbell Hall High School. He has been involved in the community with the Special Olympics and the St. Matthew's Vestry, which oversees the Church and Episcopal Day School at St. Matthew's Church. He is also active on behalf of Harvard Business School in California.
His wife Carrie earned a BA in History in 1990 and a Master's in Education and Multiple Subject Instruction Credential in 1991. Carrie belongs to Women & Philanthropy and is a lifetime member of the Alumni Association. The Mapes endowed five student-athlete scholarships at UCLA—two in men's tennis, football, men's basketball, and women's beach volleyball. Additionally, the Mapes funded a gift to support the construction of new beach volleyball courts at UCLA which will be known on campus as Mapes Beach. John currently serves on the Athletics Centennial Campaign Committee, Chairs the UCLA Athletic Hall of Fame Committee and serves on the UCLA Technology Development Corporation Board.