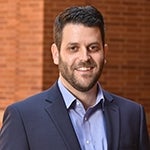 Guy Rosenthal, PhD, MBA
Business Development Officer - Immuno-Oncology; Immunology; Transplantation; Dental
Business Development and Technology Transfer
Dr. Guy Rosenthal is the Business Development Officer at UCLA Technology Development Group. In his role, Dr. Rosenthal leads corporate development efforts, amongst others, to commercialize and invest in biopharmaceutical assets at UCLA campus, predominantly in the fields of immuno-oncology, immunology and computational biology.
Previously, Dr. Rosenthal was with the Global R&D of Teva Pharmaceutical Industries (NASDAQ: TEVA) where he led global external innovation with Teva's academic partners and led search and evaluation of technologies reporting to Teva President of Global R&D and Chief Scientific Officer. Prior to that, Dr. Rosenthal conducted translational research and drug development at VBL Therapeutics (NASDAQ: VBLT), a biopharmaceutical company focused on the development of first in class treatments in the fields of cancer and cardiovascular diseases.
In addition, Dr. Rosenthal is also the Founder and Managing Director of The French Horn Fund, a nonprofit impact fund that invests in social enterprises and special-needs populations.
Dr. Rosenthal holds a B.Sc in Biotechnology and a Ph.D in both Biochemistry and Molecular Biology as part of the Academic-Corporate Partnership Program, Faculty of Life Sciences at Bar Ilan University, Israel. In addition, Dr. Rosenthal holds an MBA from UCLA Anderson School of Management.