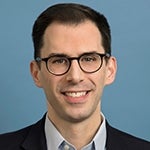 Thomas Lipkin, Ph.D.
Director of Entrepreneurship & New Ventures
New Ventures
Thomas Lipkin joined UCLA TDG in 2012 and serves as Head of New Ventures. Dr. Lipkin and his team work to further the entrepreneurial environment at UCLA by building startup companies around UCLA's intellectual property, serving as a resource to faculty members, aiding existing UCLA startups in sourcing financing and talent, and helping secure additional funding for campus-wide startup initiatives. Dr. Lipkin is also responsible for actively promoting UCLA's intellectual property assets and engaging with parties interested in further developing early-stage technologies in the life sciences, physical sciences, and internet technology space. Previously, Dr. Lipkin was with Osage University Partners, a venture capital fund that invests exclusively in university-based startup companies. Dr. Lipkin received his B.S. in Biology from Indiana University and his Ph.D. in Cell Biology and Pathology from Columbia University.