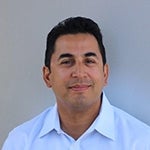 Tariq Arif, J.D., MBA, MSc.
Business Development Officer
Licensing and Technology Transfer
Tariq joined UCLA TDG in 2016 as a Life Sciences Technology Transfer Officer. His responsibilities include evaluating new inventions, securing intellectual property protection where appropriate, and licensing the university's rights to both established companies and startups. Most recently Tariq served as Associate Director at the Center for Innovation, Children's Hospital Los Angeles. Before working at Children's, Tariq handled licensing and technology transfer at Partners HealthCare Innovation in Boston on behalf of Massachusetts General Hospital and Brigham and Women's Hospital. He also has prior technology transfer experience with the National Cancer Institute in Maryland and the Naval Research Laboratory in Washington, DC. He holds a B.S., M.B.A, J.D./L.L.M., and a Master's of Science in Biochemistry and Molecular Biology. Tariq is a registered patent attorney with the USPTO.